Download Your FREE Buyer's Guide to the 2018 Nissan Altima!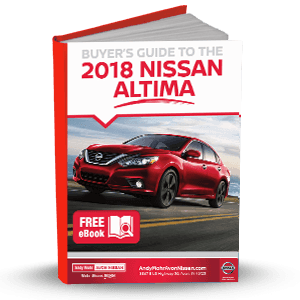 If you're looking for your next sedan that'll spice up your daily commutes to Avon, road trips to Danville, or even drives to the kids' soccer practice in Plainfield, then you've come to the right place! The 2018 Nissan Altima is redefining the way drivers look at being on the road, and our team at Andy Mohr Avon Nissan is here to tell you why.
In this eBook on all things Altima, you'll find information such as:
How your passengers will stay connected at all times with the latest technology features
How you can make your Altima personalized with engine options and additional features
Why you'll want to volunteer to drive on your next night out on the town with the Altima's entertainment features
How the standard safety features will give you an extra sense of security no matter where you're going
Ready to get started? Just fill out the form on this page and click submit, and you'll be redirected to your free copy of the Buyer's Guide to the 2018 Nissan Altima. Happy researching!