Nissan Technology

Welcome to the Andy Mohr Avon Nissan hub for all the latest in Nissan technology! We've put together this resource for drivers throughout Avon, Plainfield, and Danville who want to understand all the latest gadgetry in Nissan vehicles.
When you learn about Nissan tech features, you'll have a clearer picture of what your favorite Nissan cars, trucks, and SUVs can do for you. Read on to learn more about what you'll find in our technology reviews!
The Latest & Greatest in Nissan Tech
Keeping up with the most recent technological developments in cars is a never-ending task. Luckily, we've made it easy for you with our technology reviews. They cover the entire spectrum of technology features, including:
Comfort & Convenience: From heated seats to sound insulation and motion-activated liftgates, all kinds of tech features exist to help you enjoy your ride to the fullest.
Entertainment & Information: The NissanConnect® infotainment system makes it easy to enjoy a variety of connectivity features, including music, maps, texting, calling, and more.
Safety & Security: Learn more about the Nissan Intelligent Mobility™ suite of driver-assist features designed to help you avoid accidents and extend your senses on the road.
Why Researching Tech is Important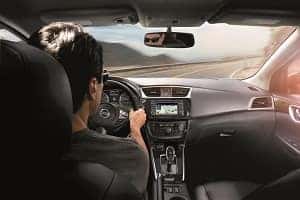 When it boils right down to it, what do you get out of researching Nissan technology? In the modern day and age, cars use technology to help them stand out from the pack and keep you safe, comfortable, and connected behind the wheel. These are all important qualities, and you want to make sure the vehicle you choose is well-rounded.
In many ways, technology is a modern measure of vehicle quality. To match the wish list in your head (and maybe add to it!) with the most compatible car in the real world, you'll benefit by reading our tech reviews and exploring the features you care about most.
Search Our Nissan Technology Library Now!
There's no time like the present to start learning more about Nissan tech, and our team at Andy Mohr Avon Nissan is here to help. If you live near Avon, Plainfield, or Danville and technology is important to you, click the technology review on this page for the car model you're most interested in.
Read all about the advanced Nissan features and see if you can imagine yourself using them. You can also schedule a test drive and try them out yourself!